Booking:
Paradise Peak Cruises have been launched on Jan 01st, 2012. At that time, the luxury vessel will satisfy the most well-experienced travelers who enjoy the sunlight in Halong Bay - One of New 7 Natural Wonders from November 11, 2011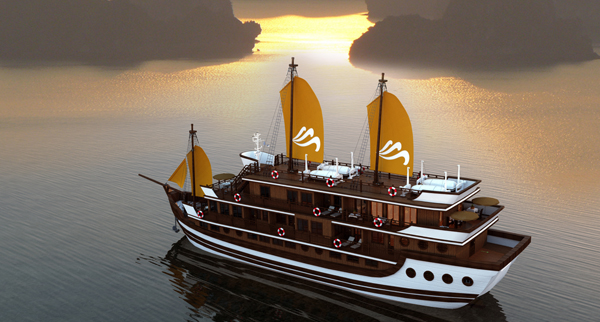 Worth about U.S$ 06 millions, with a length of 45 meters, is manufactured by all kinds of precious woods, including 4 floors, 8 suites, a magnificent dining room with 360-degree panoramic bay view, one library, movie theater, relaxing Spa, gym ... Paradise Peak Cruises will satisfy the travelers who have been accustomed to move by/with Limousine on the ground, stay in the penhouse, fly private plane or use the President room at the 5*-hotel when traveling.
The smallest room has a total area of 42 square meters, every room is equipped with large screen TV system, private balcony overlooking the sea, a lot of mild sofas for relaxing, reading and watching the sunrise or sunset. "We want visitors to feel comfortable and relaxing as in the middle of the luxurious city, but to be enjoyed "the every centimeter" scenic beauty of Ha Long Bay on each voyage" - Mr. Jonas Hjerpe, the Swiss captain shared.
Any where you are, which activities on the Paradise Peak, the visitors always have the opportunity to contemplate the legendary beauty as in a dream of Halong Bay: whether it is soaking in the rose bathtub in the room, or daydreaming in the lavender smell at the Spa, being exercised in the gym, chatting at the bar, or sunbathing on the sundeck ...The Italian architects specially pay attention to the vision of users with the transparent-glass windows and wide throughout all sizes.
Cabins
Eight extramely spacious suites compose our majestic Paradise Peak. two are located on the first deck, four on the second deck and two on the third deck
From 38 m to 42 m, they all feature a bedroom, a large en-suite bathroom and a private dining area. They display large bay window allowing our guests to capture each and every wonder of the formidable surrounding seascape.
Private balconies add an exquisitely refined touch and provide intimate outside cocoons to thoroughly enjoy the environment in perfect serenity.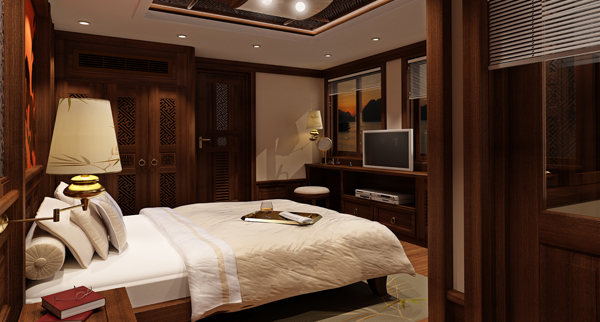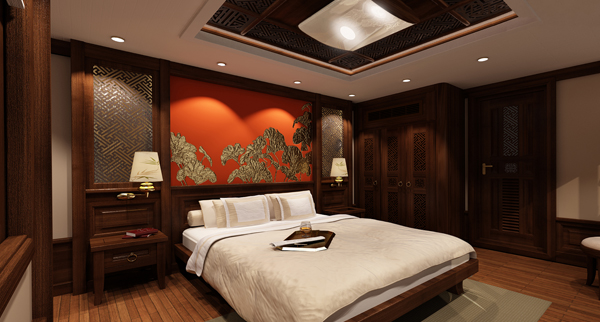 Designed with supreme sophistication, the suites are furnished with all necessary amenities to ensure the utmost comfort: large double beds, bedside tables, cupboards and ample storage space, TV/DVD sets, table and chairs, etc
For an uninterrupted sightseeing and enjoyment of Halong Bay, the lavish and wide en-suite bathrooms also feature large window-panes. Both bathtub and shower cabin included in all bathrooms have been arranged for you to enjoy the views at all times.
FOOD & DINNING
Paradise Peak dining and drinking are an exclusive
We have created our first onboard A la carte menu for you to choose according to your taste and desires among a selection of refined disches artistically blending Vietnamese flavours and international delicacies
A list of the finest vintages in the world together with an exquisite array of cocktails and beverages will accompany your meals and be available any time thanks to our indoor and outdoor bars.
Located on the third deck, the lavish restaurant is surrounded by large window for you not to miss anything of the nature perfomance unfolding around you as the boat sails through the bay. it can host up to 16 people and meals can also be arranged to be taken outdoors.
For a complete private experience, breakfast, lunch and dinner can be served in your suite, by the window or on your private balcony.
All meals are concocted with fresh local products in a roomy kitchen locatec in the second deck.
SERVICES & LEISURE
For a guest service that goes far beyond the traditinal boundaries of Five Star cruising, you will be attended all along your journey by your own private butler. Poviding a 24 hour personalised service, he will be honoured to answer your requests and cater for you wishes any time throughout the cruise.
Paradise Peak presents the fitness amenities to ensure a luxurious comfort and unnumerable relaxing and unforgettable instants
The first deck features spa and fitness facilities as well as a cosy library which displays an interesting selectiong of books and magazines. Intended as a relaxation area, it is furnished with lounge chairs and sofas. In this homely atmosphere, you will be offered complimentary tea and coffee as you wish.
The sundeck of Paradise Peak is the largest of our entire fleet. You can laze in the sun and enjoy a priceless 360 C view onto the beauties of Halong Bay.
Paradise Peak can also be chartered for you to host theme parties, corporate gathering, conferences, etc. Don't hesitate to ask our teams, we will tailor th perfect cruise according to your expectations.
SPA & FITNESS
Our genuine care for our guests well-being and relaxation constitutes the unique signature of Paradise Peak Cruises.
The first deck of Paradise Peak is thus largely dedicated to nurturing and reviving your senses. After the success of our spa rooms on Paradise Luxury boats, we have decided to expand it on our new prestigious vessel.
Paradise Peak features extremely spacious spa facilities, framed by large bay window, that include sauna, steam room, Jacuzzis and massage rooms.
Paradise Peak is besides the very first and only vessel of Halong Bay to dispose of a fitness room with the ultimate heavenly touch of offering wonderful views into Halong Bay while enjoying our exercise equipments.
Booking: