Halong Au Co Cruise
Number of cabins: 32
Travelers' Rate:
1 day: US$ -
2 days 1 night: US$ -
3 days 2 nights: US$ 475
Support online: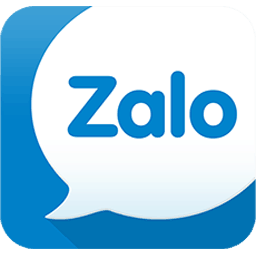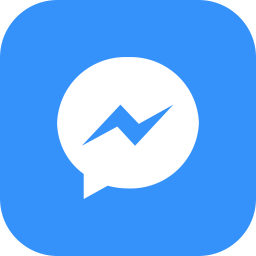 Information
Click to book: Halong Au Co Cruise 3 days 2 nights
Lifetime Experience in the Gulf of Tonkin
With a fleet of 2 luxurious ships, The Au Co is the first and only cruise operator offering full day and overnight voyages in a single trip through the Gulf of Tonkin, covering world-renowned Halong Bay, Bai Tu Long Bay, Lan Ha Bay & Cat Ba Island. The Au Co features the state of the art design in safety and luxury as well as represents Vietnamese and Oriental culture at its best. Each ship has 32 spaciously-designed private cabins, boasting luxurious bathrooms and panoramic balconies. The Au Co – for all travelers seeking a lifetime experience.
What exactly is it that makes The Au Co a lifetime experience? For every cruise, The Au Co pledges the following:
a unique route – our three day two night cruise is the first of its kind, offering passengers the opportunity to explore three bays, including Halong Bay, and Cat Ba Island, discovering each of these exciting destinations through a variety of excursions and activities.
state of the art design – the ship herself not only features the latest safety features but is also designed throughout to give a sense of space and luxury, enhancing the cruise experience .
a cultural experience – from the decoration of the ship, to the quality of our dining service, through to the range of activities available, The Au Co is designed to allow our passengers to get a true sense of Vietnam and experience a taste of the Orient .
a responsible cruise – we aim to preserve the beauty of the Gulf of Tonkin for future generations by minimising the impact on the local environment, operating under the concept of sustainable tourism, and supporting local communities.
Au Co Deluxe cabin
Au Co Grand Deluxe cabin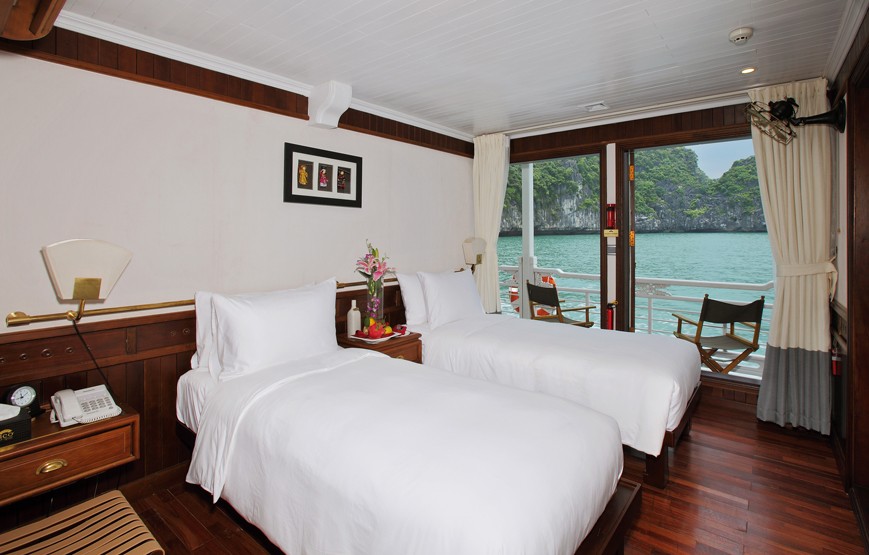 Au Co Executive cabin
Au Co Long Quan Suite cabin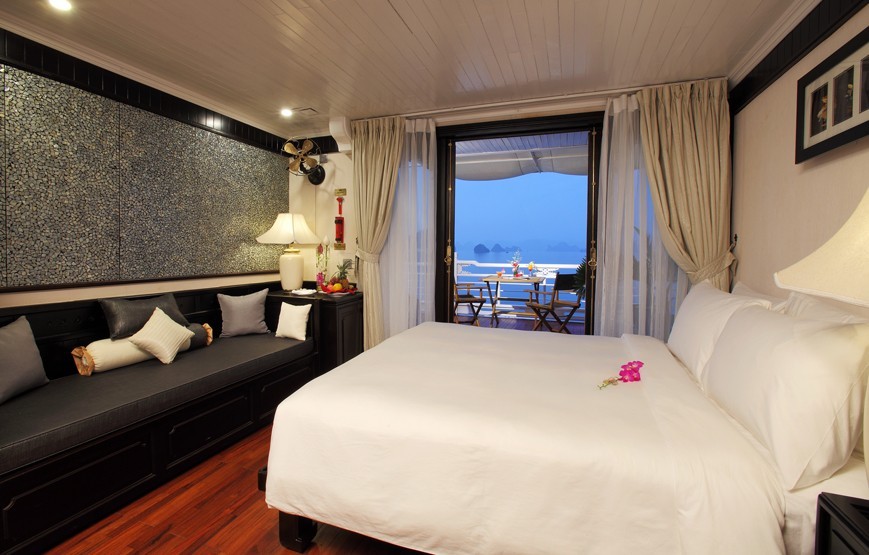 Au Co Suite cabin
Au Co Cruise Restaurant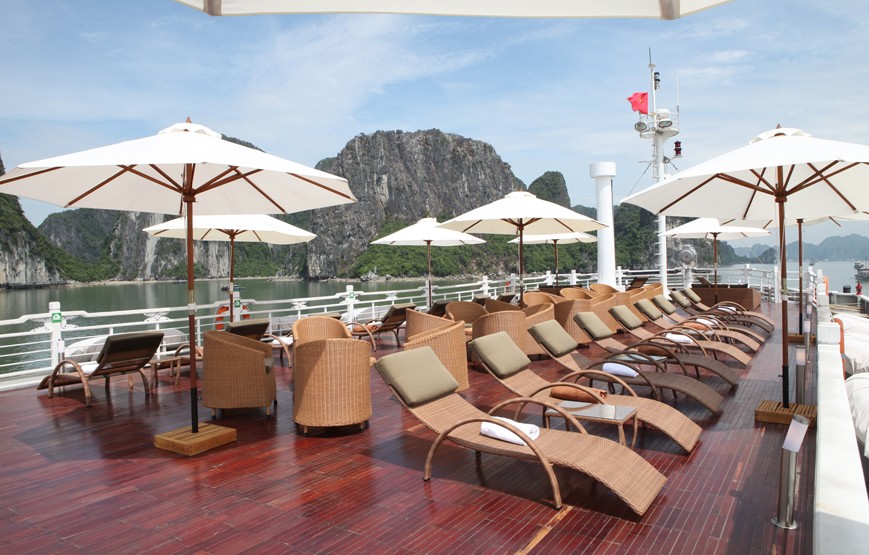 Au Co Cruise Sundeck
Onboard Safety
The boat itself was designed by the Industrial Ship Designing Institute and is inspected by the local Maritime Registration Authority annually and certified accordingly. It is the only steel boat in Halong Bay built to meet seafaring standards. It is designed to be balanced even with a 23-degree list. The Vietnamese Marine Authorities certify all materials and equipment used in the construction of the boat construction from the steel, electrical cables and generators. Every vessel is fitted with professional marine safety equipment: VHF Radio, GPS Plotting, Two-way radios, Water Ingress Alarm System, Anti-sinking Pump System, Fire Alarm system System and Fire Extinguishers. The Au Co boats have double the safety coefficient required by the authorities.
All The Au Co vessels operate under professional daily technical supervision and ongoing maintenance schedules, which will insure you cruising Halong Bay in a completely safe environment. Each vessel maintenance schedule includes regular monthly and bi-annual routine maintenance and an annual dry-docking to ensure all aspects of seaworthiness and accommodation are in good condition. All The Au Co vessels are covered with maximum vessel insurance based on the vessel certification, including total Crew and Passenger capacity.
For all of our Vietnam cruises,The Au Co places the highest priority on the safety and security of our vessels and all Passengers, Crew and Crew members onboard. All The Au Co vessels are commanded by a Captain, and manned by a professional Deck Crew and Crew members. All Crew and Crew members have training certificates or recognized expertise accredited by the relevant Vietnamese Government Authorities. Our Cruise Managers conduct a safety briefing prior to departure, which includes onboard procedures and clear instructions in case of emergency. All The Au Co Crew are trained for SOLAS (Safety of Life at Sea) and dealing with emergencies. Refresher training and live drills are conducted every month.