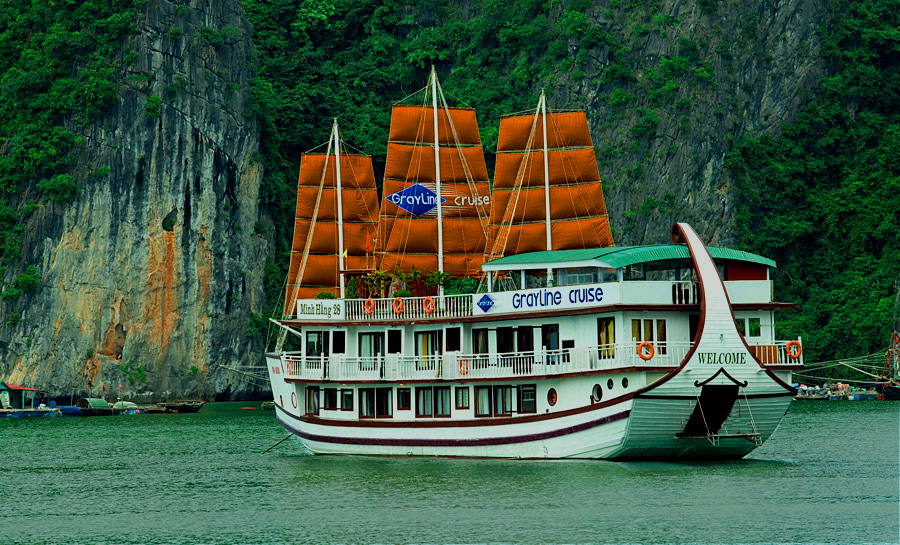 Grayline Cruise Halong Bay - New cruise
Number of cabins: 14
Travelers' Rate:
1 day: US$ -
2 days 1 night: US$ 138
3 days 2 nights: US$ 270
Support online: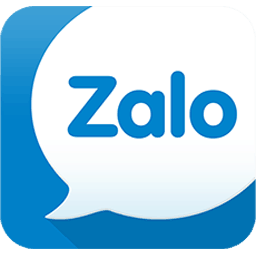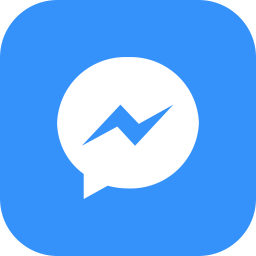 Information
Gray Line International - A prestigious American brand
Serving over 700 destinations worldwide, Gray Line invented the art of sightseeing and serves as the leader in tourism industry and now coming to Vietnam...
Founded in 1910, Gray Line has since grown into a global sightseeing network of local experts offering "one of a kind" itineraries in adventure, luxury and budget-friendly travel.
For over 100 years, Gray Line has been the trusted name in sightseeing tours around the world. With tours and excursions in more than 700 locations, spanning six continents, we are the largest sightseeing company in the world.
Primarily offering excursions throughout North America, the company has since grown into a multi-faceted, global sightseeing powerhouse specializing in well-rounded destination experiences that include adventure and eco tours, luxury tour services, budget-friendly activities, as well as culinary, cultural and historical pursuits. The company is headquartered in Denver, Colorado.
In 2010, Gray Line brought a new franchisee: Gray Line Halong - the first overnight ocean cruise of Gray Line World Wide in Vietnam. Complimentary to Gray Line's own set of core values; Gray Line Halong's motto embodies a commitment to treating each visitor as a friend and local. It goes without saying that every product is fine-tuned to provide experiences, whether they pertain to culture, adventure or the unique cuisine, that are true to the Vietnamese way of life.
Gray Line Halong - The Unique Luxury Cruise
Gray Line Halong features a unique design of Vietnamese traditional wooden junk and a luxury set of services by our professional teams. Gray Line Halong is a brand new cruise in Halong Bay but not new to the world.
Welcome onboard. Recently brought to Vietnam, Gray Line Halong is proud to be the first oceanic overnight cruise along the 103-year history of Gray Line Worldwide. Be charmed by her exquisite luxury, intimate setting and unrivalled home from home service. An unforgettable way to witness the serene, calm settings of HalongBay's exceptional natural beauty.
Gray Line Halong is passionate about sophistication.
Spreading over 3 decks, she has 14 luxury cabins offering boutique interiors with oak-wooden wall, all rooms and bathrooms having sea-view, private sundeck and private balcony. Gourmets must be quick to reserve outdoor dining tables if you want to combine the scenic atmosphere with your delectable cuisine. 2 distinctive bars (1 outdoors, 1 indoors) are ready to ease your mind by special cocktails or gear-up youngsters' adrenaline by rock music. The top deck serves as a perfect place to enjoy lingering in the sunshine and discovering the splendid beauty of Halong bay with a 360° view, thus promising unforgettable and thoroughly relaxing moments. See cruise description in details.
Gray Line Halong is your home while you are in Halong Bay.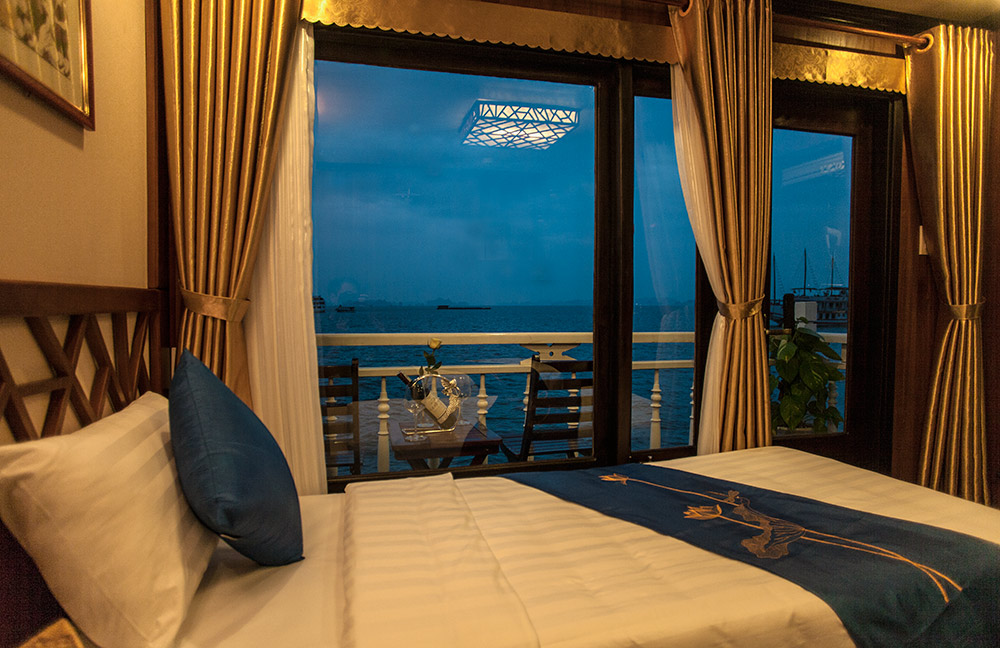 Good service is the key focused by a professional, friendly and dedicated team. On Gray Line Halong cruise, we commit to offer you a set of luxury services onboard controlled by the quality management of Gray Line Vietnam. All crew are well-trained under the standards of Gray Line in 6 months. Cook chefs and bartenders come from famous training center and are experienced enough to cater both Asian and Western styled F&B in other 4 and 5-star restaurants. The Sales & Reservation teams in Hanoi always have a good mind of customer service, caring your trip and are flexible to solve any special requests. "Know-how" and "Well-Done" are our internal motto to guarantee memorable cruises. Our crews are enthusiastic individuals who are committed to making your stay with us special and memorable.
Our Professional Liability Insurance
Gray Line Halong provides a prestigious travel liability insurance package of US$ 250,000 - and up to US$ 1,000,000 in October 2013.
Gray Line Halong is proud of being a pioneer tour operator in Vietnam who pays serious attention to the travel insurances for guests. Beside the civil liability insurance purchased as entrance tickets, we also provide professional travel liability insurance package with limit of indemnity up to US$ 250,000 - which will be increased to US$ 1,000,000 in October 2013, provide a safeguard and immediate help for problems occurred during the trip.
Travel insurance
Gray Line Halong also provides automatic fire alarm system and risk alert system with advanced facilities of USA. Other rescue equipments such as life jackets, economic breakers, etc. are arranged within reach of customers. The emergency exits are broad, convenient and easy to find.
Gray Line Halong offers a different and unique cruising experience controlled by the quality management of Gray Line International.
Professional and dedicated team
At Gray Line Halong Cruise, we know that people are the key element of superior services, thus we put a lot of effort on recruiting, refreshing and training our crew.
You can trust Gray Line Halong for the dedicated attitude towards our valued customers. Our young team – all with fluent English – is always nice, caring and enthusiastic.
Unlike most Halong Bay cruises, our professional team provides you with both cruise manager and tour guide as we believe that each person with specialized expertise is responsible for bringing the best services to your satisfaction.
Highly personalized services
Cruising with Gray Line Halong Luxury Cruise, you can fully enjoy our gracious hospitality and professional travel services that pay attention to every single details.
Our cabins will be arranged as your wish with the connecting ability of up to 6 adults and 2 children. Our well-designed private balcony will ensure intimate privacy and comfort for you.
All meals will be prepared just the way you like with exquisite cuisine including authentic Halong regional food and Vietnamese-Western fusion dishes from our staff of highly trained chefs. Our outdoor dining tables will combine the scenic atmosphere with delectable cuisine.
Relaxed atmosphere prevails onboard
Our cruise creates glorious space on board for passengers to fully enjoy cruising on the most picturesque landscape of Vietnam. With our large sea-view cabins offering boutique interiors with oak-wooden wall, you can feel not only warm like home but also harmonic with the beautiful nature outside.
Relaxing on our large sundeck will be an ideal alternative to your holiday beside our exotic kayaking and boat trip. You can enjoy sunbathing, cocktail drinking, wine taste, and especially trying foot massage. There's nothing perfect than drinking a bounty glass of wine while our professional and helpful massagers taking care of your feet.
One more special thing that makes Gray Line the ultimate in Halong Bay cruises is the stunning Halong nightlife experience with our various evening activities. You can unwind yourselves by a romantic movie night with friends and family, or explore an adventurous atmosphere of night squid fishing with our helpful local fishers.
Safe and unique cruising
More different than other cruises in Halong Bay, Gray Line Halong Cruise's first criterion is taking serious care to ensure you the safest cruising in Halong Bay. Beside our prestigious travel liability insurance and automatic safety system, you can put your trust in our clear, unique and favorable itineraries.
Also, we will show you the best of each area we visit. You can fully experience the local Vietnamese culture through the visit of unspoiled fishing villages such as Viet Hai, Vung Vieng, etc. and take part in bamboo boat trip, cycling or trekking in Cat Ba Island. Especially, enjoying a day in the life of Halong fishermen may be the memento of your holidays. You can participate in Vietnamese traditional fishing along with fishermen by paddling through the water to scare fish into net. Eventually, our chef will prepare a delightful meal for you with the fishes you caught.
Saving time & expenses the most
You don't have to sift through online reviews or wonder what your cruise ship will really be like. We'll only recommend cruise itineraries we're confident you'll love. We'll help you cut through the clutter and information overload on the web.
We'll give you our honest assessment on destinations, cave explorations, fishing villages and Halong Bay excursions. We're as discriminating with your travel budget as we are with our own, so you're guaranteed the best possible experience for every dollar you spend.
The Cruise
Overview:
FLEET
Exterior Traditional Vietnamese wooden Junk
Capacity 28 passengers per cruise
LOCATION
Operating Location Halong bay, Vietnam
Office Tuan Chau Marina, Tuan Chau island, Halong city, Quang Ninh province, Vietnam
TRANSPORTATION
Shuttle bus service Daily departure at 7:45AM from Hanoi, and at 12:00 from Tuan Chau

Private car service On request

Helicopter service On request
SERVICES
Reception desk assistance

24 hour security

Newspapers and magazines

Souvenir boutique

Bar opened from 7.00AM until 11.00 PM on 3rd

Deck dining-room

Languages spoken: English, Vietnamese
CABIN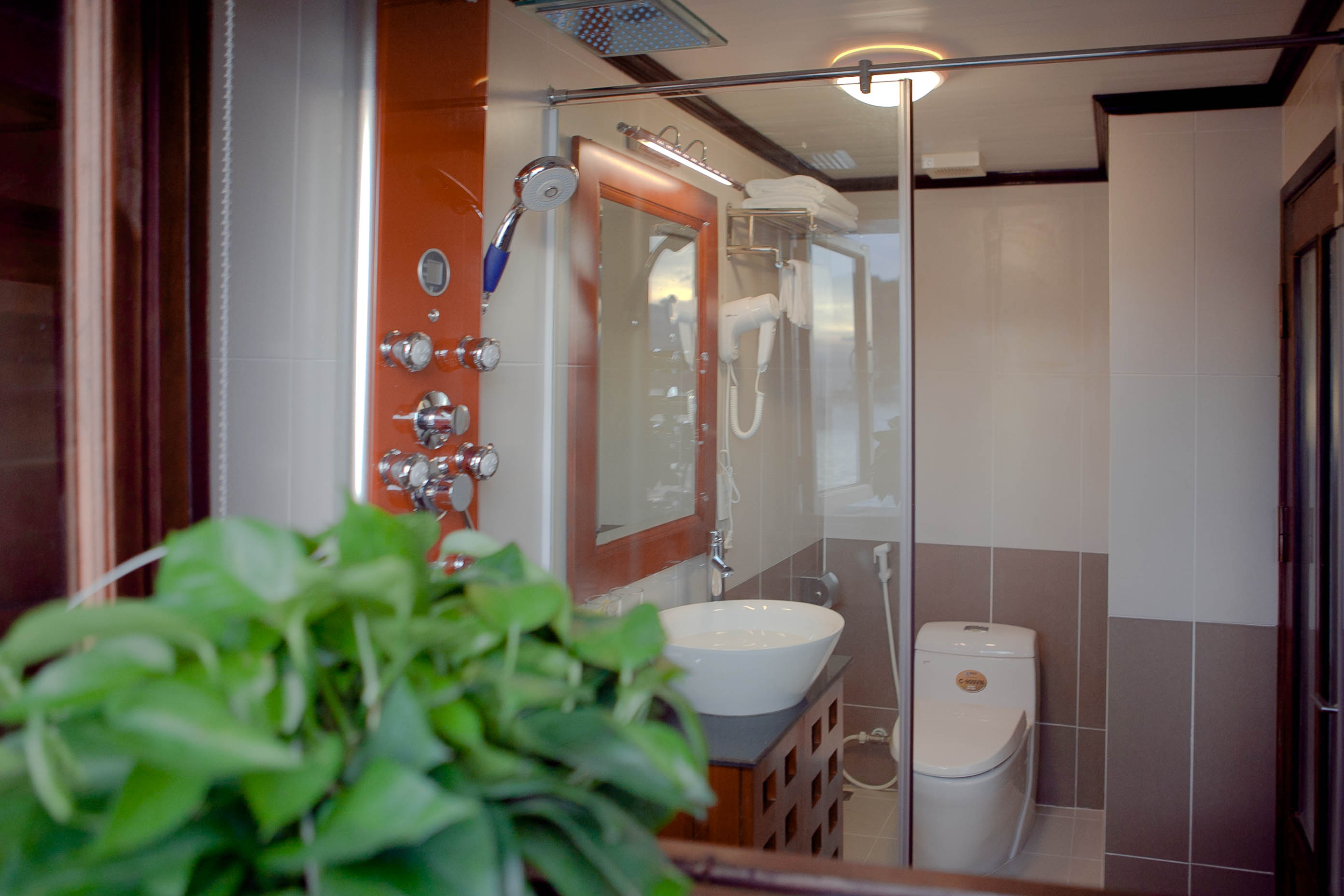 Gray Line Halong cabin is your eyes over Halong Bay. Our rooms featured large sea-view bathrooms and private balconies will ensure intimate privacy and comfort for you to enjoy cruising. The traditions and the modern blend harmoniously in distinctive handcrafted woodwork and boutique décor, which allows you to relax in style and makes the most of your Halong retreat.
Total number of Cabins .......................... 14
Capacity of Passengers .......................... 28
Combination.......................................... 2 connecting VIP Cabins can be combined with 1 Deluxe Balcony Cabin to accommodate 6 adults + 3 children
Room amenities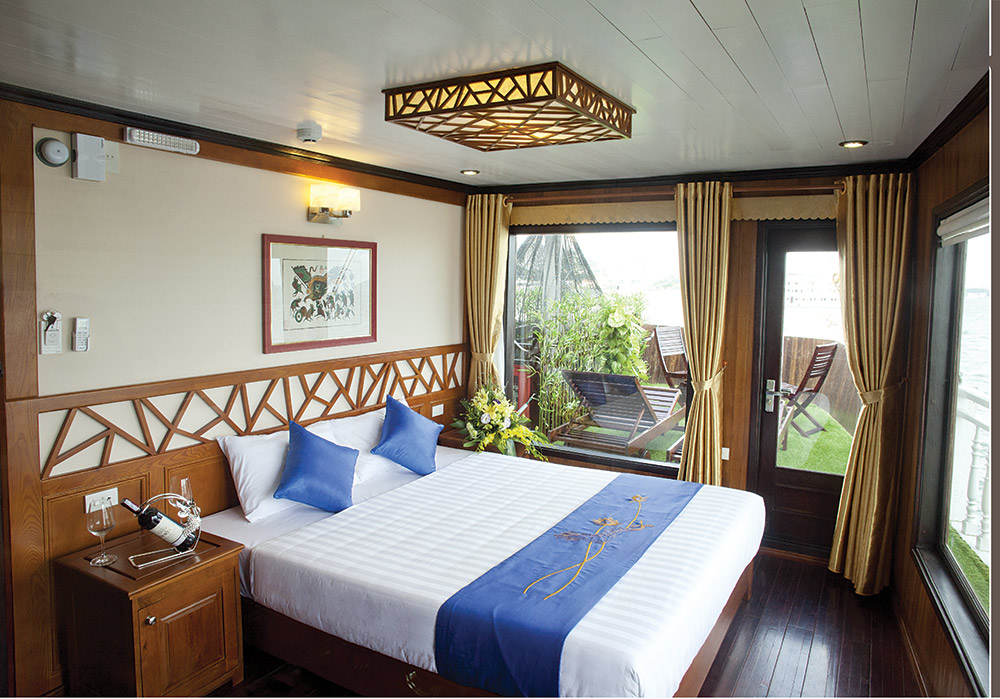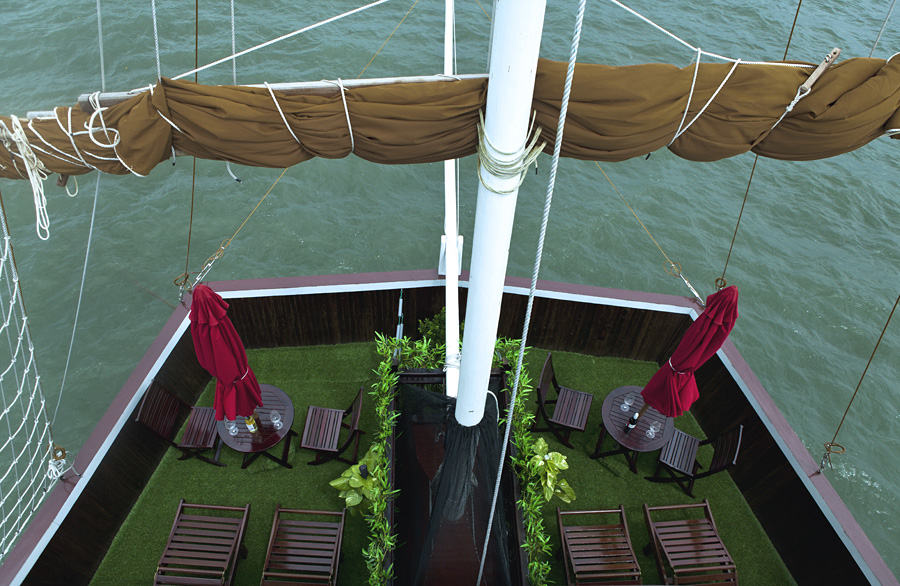 Air-conditioning adjustable individually

Bath linen

Satellite TV set

Complimentary mineral water

Fire Extinguisher, Emergency Hammers

Marble Bathrooms with sea view

Hair-Dryer

Complimentary toiletries

Toilet

Slippers

Wardrobe

Life jackets
Deluxe Cabins: The deluxe cabins with large sea-view windows are 15m2 and located in the first deck. Bed types include twins or double rooms. Each cabin has the capacity of 2 adults (no extra bed).
Deluxe Balcony Cabins: The deluxe balcony cabins are 18m2 and located in the second deck with private balcony. Bed types include twins or double rooms. Each cabin has the capacity of 2 adults and 1 child with extra bed.
VIP Cabins: The VIP cabins are 20m2 and located in the second deck with connecting door, Jacuzzi bathtub and private terrace of 10m2 with panorama view. Each cabin has the capacity of 2 adults and 1 child with extra bed.
Dinning and Bar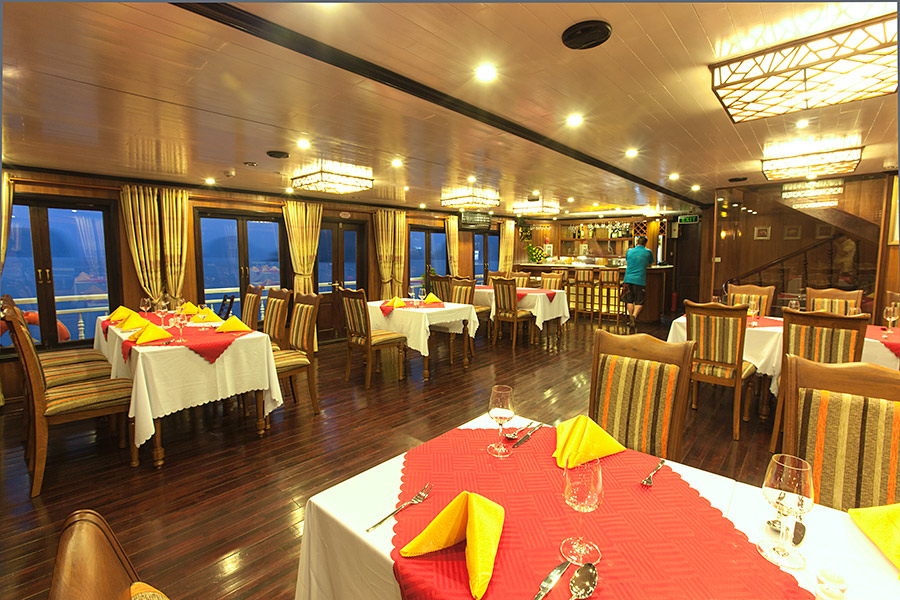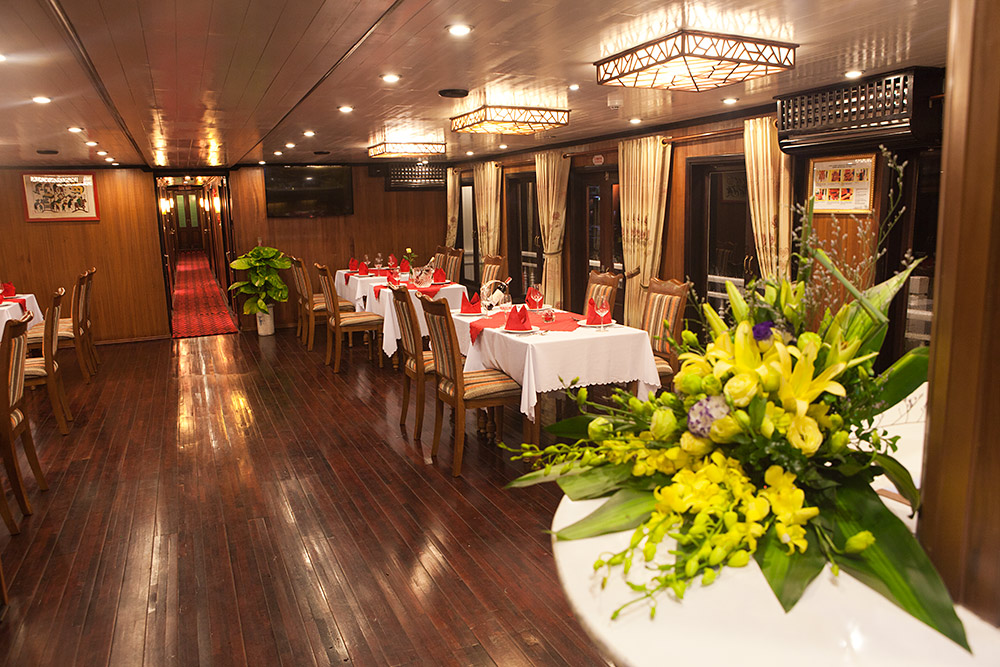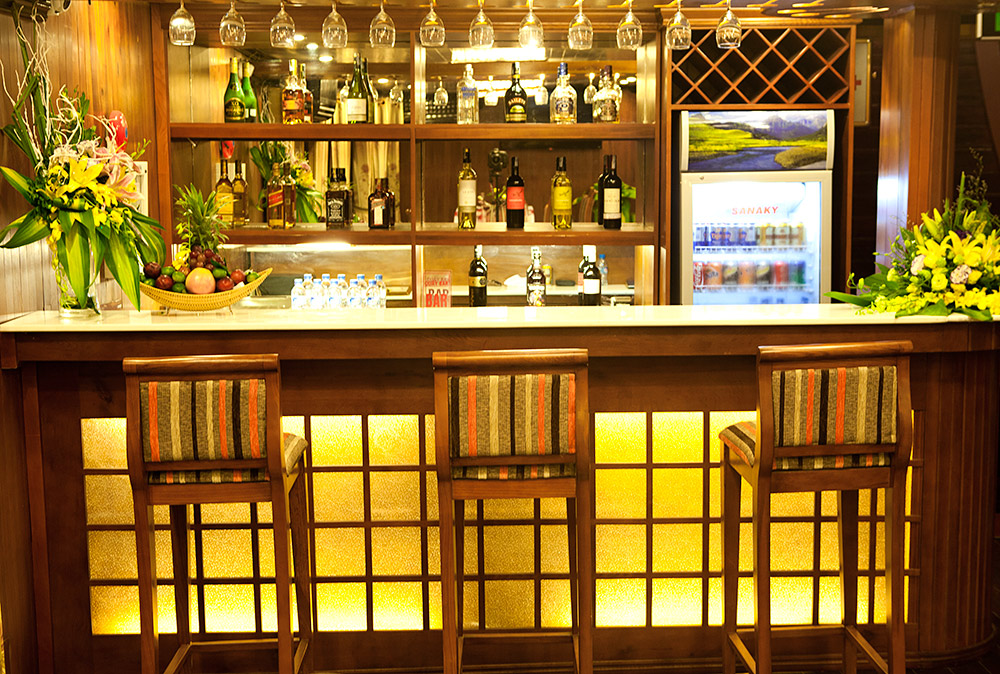 Our restaurant serves all the classics as well as modern dishes in a relaxing and intimate setting. We also serve authentic Halong regional cuisine to give passengers a taste of locals. If you haven't tried it before, we hope you will feel adventurous with us!
Enjoy an aperitif before tucking in or relax and unwind after dinner in our lounge bar over cocktails and an extensive wine list.
Feel free to explore our menus - we will, of course, do our best to accommodate any special dinner requests.
Gray Line Halong Ba rWe are passionate about continually pushing ourselves to create the most enjoyable and unique experience possible. From searching out rare and unique cocktails, to pushing an ever-changing colorful, creative menu, we stand out amongst the norm and predictable. A wide selection of the best vintages from around the world will complement fine beverages and creative Asian-inspired flavors.
The restaurant and the indoor bar are located on the 2nd deck.
The outdoor bar is on the Sundeck.
Open Time:
Breakfast
A light breakfast with tea/coffee/pastries is served from
6.30 AM to 7.30 AM - a full buffet brunch is available from
10:00 AM to 11:00 AM
Grayline Cruise 2-day 1-night package.