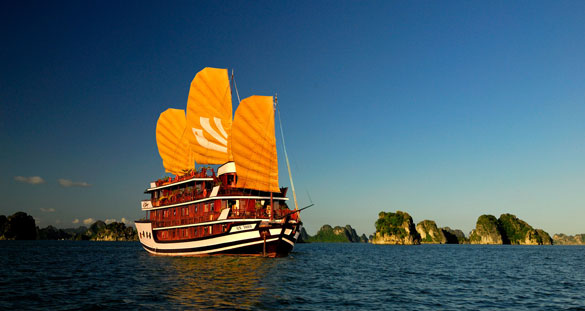 Halong Bhaya Cruise
Number of cabins: 15-18
Travelers' Rate:
1 day: US$ -
2 days 1 night: US$ 181
3 days 2 nights: US$ 326
Support online: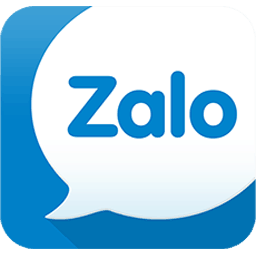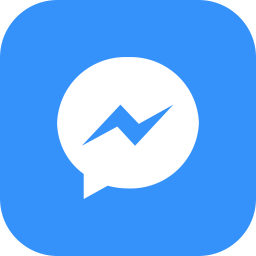 Information
Why Bhaya?
Bhaya is more than just a cruise, it is an experience. Everything from the natural beauty of the seascape in the Bay to the smallest attention to detail combine to make the Bhaya experience the ultimate in Halong Bay cruises.
1-More Cruising, Less Crowding
Unlike most Halong Bay cruises, all Bhaya cruise routes follow courses carefully plotted by our passionate experts. Such meticulous planning means our cruises last 2 hours longer than any other. This gives you more time to see and visit all the highlights of the Bay and cruise to less crowded areas as far away as Vung Vieng floating fishing village.
2-Value For Money
Bhaya cruises combine first-class accommodation and gourmet cuisine with fantastic excursions and activities at very attractive rates. For even greater convenience, Bhaya travel consultants can arrange your visa to Vietnam, airport transfers and hotels in Hanoi. All you need to do is to pack and prepare for a hassle-free trip. We take care of the details so you return home relaxed and enriched with wonderful memories.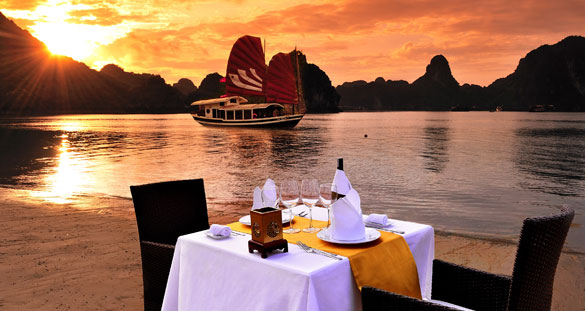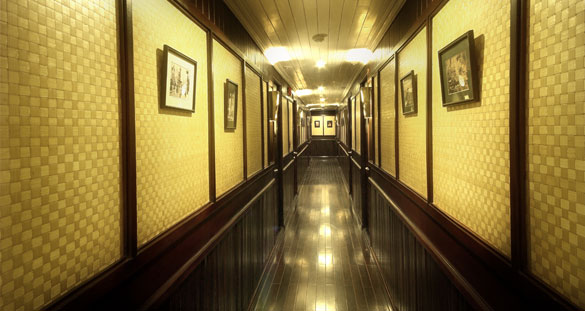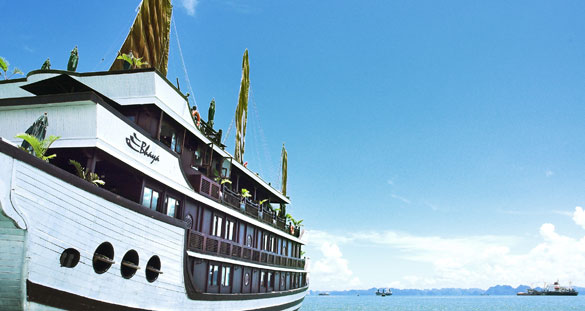 3-Gourmet Cuisine in Sumptuous Splendor
Food is a Bhaya cruise treat. The Dining Room, on the 3rd level Lounge Deck, delivers both amazing dishes and vistas. The Chef's menus feature a variety of Vietnamese-Western fusion dishes to suite every palate: from a three-course gourmet dinner to sumptuous buffet combining Vietnamese specialties (Tu hài, Nem) with Western delicacies and seafood.
4-Warm Hospitality with Superior Service
Our experienced European management team have implemented ongoing, proprietary training programs for all staff to ensure we always provide levels of service you would expect from a fine hotel. Our Cruise Directors and almost all onboard staff speak English. The Staff are at your service around-the-clock to make your Halong Bay cruise an experience not to be forgotten.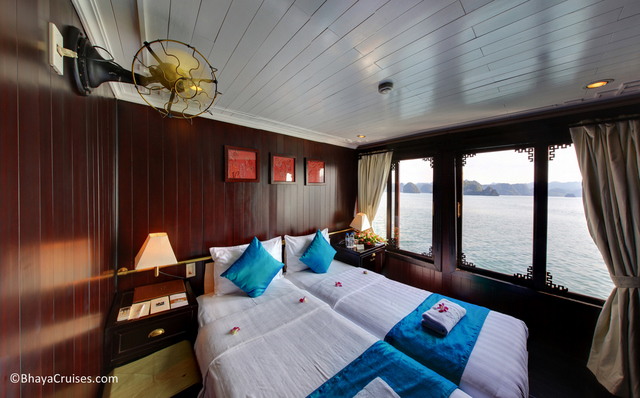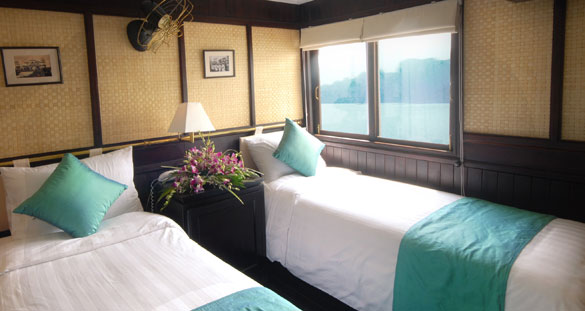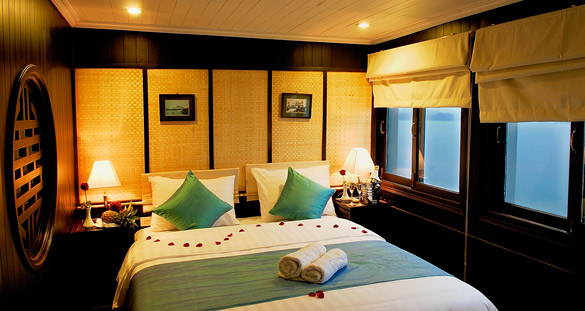 5-Responsible Cruising
We are actively engaged in practicing and promoting sustainable cruising which minimizes the negative social and environmental impact on the local Halong Bay communities while delivering the maximum economic benefits possible. We are committed to using local suppliers from these communities and providing employment opportunities. We take Responsible Cruising seriously and trust our Guests will support us in these endeavors.
6-Cultural Enrichment
Our carefully chosen cruise routes are designed to offer not only the natural beauty of Halong Bay, but also opportunities to mingle with the locals and experience the local Vietnamese culture. Visits to Vung Vieng floating village, Vietnamese cooking demonstrations, Tai Chi exercises on the Sundeck and cycling on Cat Ba Island are just some of the cultural activities you can enjoy.
7-Comfortable Accommodation
Each Bhaya Classic vessel has just 20 cabins/suites to ensure intimate privacy and comfort for all guests. Each cabin boasts a picture window designed to frame the amazing vistas of the Bay. Hotel-style beds with European linen and duvets can be arranged in either twin or double-bed configurations. Home away from home!
Bhaya Story
Bhaya Cruises offers a fleet of new vessels with a direct link to Vietnamese imperial history. A true traveler of his time, the Vietnamese Emperor Khai Dinh (1885-1925) defied the custom of taking thousands of courtiers on a royal trip. In 1917 he took just twelve of his most trusted advisers on a very exceptional trip to Halong Bay. His vessel was one of the most wonderful wooden junks to have sailed the waters of Halong Bay. Inspired by the romantic landscape of the limestone karst islands rising out of the emerald-green waters, Khai Dinh commissioned a poem in praise of the Bay's beauty to be carved on the cliff of Dau Go Cave.
The tale of the Emperor's trip and the opulent vessel he chose circulated quickly among the ship builders of the region. Each succeeding generation of shipbuilders dreamed of duplicating Khai Dinh's wonderful vessel, yet nearly 100 years passed before an 80-year-old master shipbuilder, Nguyen Van Hoa, turned the dream into reality.
Master Hoa was born into a highly respected family of ship builders in Quang Ninh Province. From early childhood, his father had filled his mind with stories of this magical Imperial vessel that none could replicate. At the same time, under the expert tutelage of his father, Hoa developed into one of the most gifted marine architects of his generation. Night after sleepless night, he studied ancient drawings and scripts describing Vietnamese wooden vessels and junks. During the day he devised blueprints for all types of vessels that could sail across all sorts of ocean waters.
Still, Hoa's life seemed incomplete. He was always searching for that dream vessel – the one that would set his work apart from those of the other shipbuilders of his time. One day, among thousands of ancient sketches and drawings, he discovered a fragment of the lost blueprint for Khai Dinh's matchless vessel. Working slowly and carefully, he managed to restore the drawing to its original state. At last, the incomparable vessel that had transported Khai Dinh and his courtiers lived again on paper. Now, all that was left was to find the support to build the vessel and transform the dream of a lifetime into reality.
In January of 2005, a chance meeting took place in Halong between Antoine Bertrand, a gifted young French architect from Montpellier, his colleague, Anne Drousie, who wanted to build a luxury boat in the style of the ancient Vietnamese junks, and Master Hoa. At last, more than 80 years after Khai Dinh had set sail, all of the ingredients were in place to finally recreate this magnificent vessel.
Fiercely determined, the French architects and Vietnamese master shipbuilder toiled for two long years in the heat of the shipyard. Finally, in July 2007, the first Bhaya Classic was launched – a perfect blend of the experience and talent of the master shipbuilder's craft and the youthful creativity of the Frenchman and his friend.
The embodiment of an ancient Halong dream, the Bhaya vessels are a flawless combination of traditional Vietnamese aesthetic delicacy and western luxury and comfort. Sailing in the midst of the wonder and natural beauty that distinguishes Halong Bay, the Bhaya vessels play a considerable role in the embellishment and protection of this glorious World Heritage Site!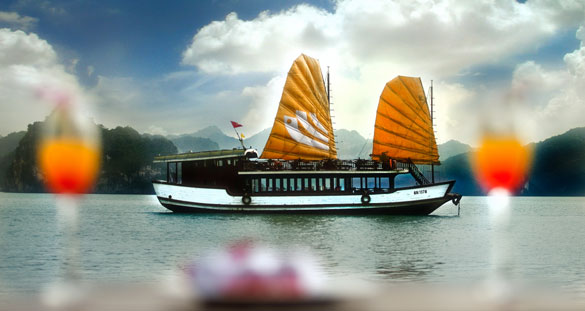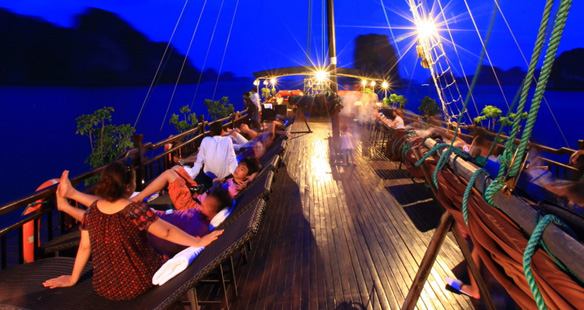 Responsible Cruising
Bhaya Cruises is committed to responsible and truly sustainable cruising. This commitment was formed when the company was established. Today, in the face of a multitude of threats to the environment, our commitment remains stronger than ever. We aim to ensure that Halong Bay retains its natural character and cultural diversity for future generations. This vision can only be realized with the support of all our guests and local partners.
Our Principles
Bhaya Cruises engages in partnerships with local authorities to actively promote and campaign for conservation and environmental protection.
We provide opportunities for cultural exchanges where locals and visitors alike can share, learn from each other and foster understanding in an atmosphere of mutual respect.
We contribute to the welfare of the local communities in Halong Bay through our Community Cruise Program. Via this program we can arrange for our guests to spend some time in floating villages to assist in upgrading basic facilities for the local community.
We aim to maximize the positive benefits of tourism for all local communities in Halong Bay. This includes training and employment of locals, using local suppliers and assisting in the development of sustainable local businesses.
We actively minimize the negative effects that tourism can bring by ensuring that tourism does not divert resources away from local communities or adversely affect the local economy.
We manage cruise operations in such a way that the natural and cultural value of Halong Bay will remain undiminished in the long-term.
We strive to educate our guests about the destination and local culture as well as providing guidelines on appropriate behavior to minimize any negative impacts from our presence.
Bhaya Classic
Built in oriental style with contemporary luxury, Bhaya Cruises established new standards of luxury cruising in Vietnam when Bhaya Classic I entered service in summer 2007. Our fleet consists 04 Bhaya Classic vessels. Bhaya Cruises with total 80 Cabins and Suites, proudly presents the premium cruise operator in Halong Bay which guarantees greater availability for your cruises.
Bhaya Classic I, II, III
Bhaya Classic I, II, III - each offers 20 luxury Cabins and Suites accommodating a maximum 40 passengers.
Features:
2 Accommodation Decks

1 Lounge Deck with Dining Room and Bar

1 Sundeck

18 Deluxe Cabins

2 Royal Suites

1 Massage and Spa Area

1 Boutique Library
Bhaya Classic IV
Bhaya Classic IV – offers 15 Cabins accommodating a maximum 30 passengers.
Features:
1 Dining Room

1 Sundeck

15 Deluxe Cabins

1 Massage and Spa Area

1 Boutique Library
Deluxe Cabins
Our Deluxe cabin (12.5m2) offers all the amenities necessary for you to feel comfortable: twin beds (convertible into double bed) or a queen-size bed, air-conditioner, wall fan, refrigerator, en-suite bathroom with shower. Each features a picture window, providing added light and memorable views.
Cabin Amenities:
Hair-dryer

Wall mounted fan

Individual controller air-conditioning

Mineral water

Separate glass shower cabin

Mini bar

Toilet

Candies on bed

Bathroom amenities Slippers

Umbrella / Raincoat at reception

Wardrobe

Luggage standee

Life vests

Wake-up shelf

Fire Extinguishers

Smoke detector, Sprinkler systems
Royal Suites
The two sumptuous Royal Suites (16.5m2) are located in the forward section of the upper accommodation deck and offer panoramic 180° views. Each Royal Suite offers all the standard amenities of the Deluxe Cabins, plus a larger en-suite bathroom, a plush sofa, extended picture windows and an exclusive, private viewing area on the foredeck.
Additional amenities & services for Royal Suites:
Private balcony on the Upper Deck

Special in-room amenities

Flower & fruit basket

Bottle of champagne
Booking:
Bhaya Legend
Built in similar style to the larger Bhaya Classic vessels, Bhaya Legend charter vessels feature a single deck design with a semi-covered dining area offering panoramic views. The Legend fleet, with the total of 08 vessels, includes 01 vessel of one cabin, 02 vessels of two cabins, 04 vessels of three cabins, and 01vessel of four cabins. Each cabin offers luxury fit for Imperial Royalty. Attentive, personalized service and a maximum four passengers guarantee intimate privacy. Overnight cruises aboard a Bhaya Legend include free-flow soft drinks, coffee and tea, lunch, dinner and brunch. They are perfect for individuals, couples, families and friends wishing for an exclusive, private, customized charter cruise on Halong Bay.
Bhaya Legend one-cabin vessel
Bhaya Legend I offers a luxury Suite accommodating a maximum of 2 adults and a child below the age of 12.
Features:
1 Accommodation Deck with 1 cabin

1 Dining Room and Bar

1 Sundeck
Bhaya Legend two-cabin vessel
Bhaya Legend II has two luxury cabins, one double and one twin, which offers ultimate comfort and relaxation.
Features:
1 Accommodation Deck with 2cabins

1 Dining Room and Bar

1 Sundeck
Suites
All Suites have double beds and are highlighted in traditional Vietnamese hardwood, creating a luxuriant warmth. Cream trim and large picture windows offering 180° views ensure a bright and lively ambience. Hand-crafted hardwood furniture, gold and white fittings, and delicate upholstery further enhance the warmth and light in each suite.
Our grand Bhaya Suite (16m2) offers all the amenities necessary for you to feel comfortable: a queen-size bed, air-conditioner, wall fan, refrigerator, en-suite bathroom with shower. Each features a picture window, providing added light and memorable views.
Amenities:
Hair-dryer

Wall mounted fan

Individual controller air-conditioning

Mineral water

Separate glass shower cabin

Mini bar

Toilet

Candies on bed

Bathroom amenities

Slippers

Umbrella / Raincoat at reception

Wardrobe

Luggage standee

Life vests

Wake-up shelf

Fire Extinguishers

Smoke detector, Sprinkler systems
Booking: