The climate of HaLong Bay is tropical, wet, sea islands, with two seasons: hot and moist summer, and, dry and cold winter. The average temperature is from 15°C- 25°C, and annual rainfall is between 2000mm and 2200mm.
HaLong Bay weather has two distinct patterns. The dry season is cooler and remains dry for the most part while the wet season is high in humidity with high rainfall. The difference of two seasons can play a big part in your HaLong Bay experience. We explore the best time of the year to go and what to bring and wear on board in your tour.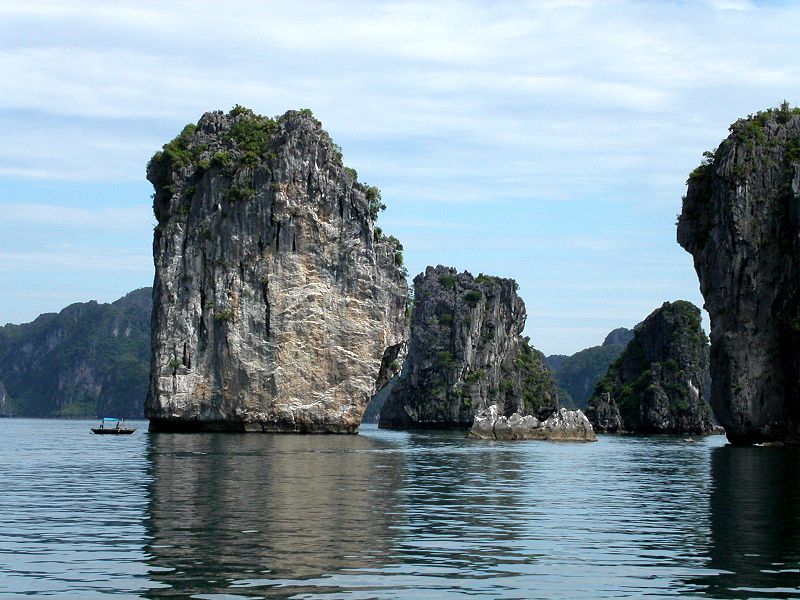 Wet Season
Wet season (summer) is from May to October with July and August which are the peak monsoon months when the rainfall is almost continuous. The summer months, the humidity is sometimes unbearable and tropical storms are quite frequent. Many of the tours may have to alter their itineraries as the weather can be unpredictable. Try to stick to the shoulder times if you decide to travel around this time.
What to wear in the wet season (Summer)
The HaLong Bay weather can really dictate what you wear in summer. Wearing lightweight cotton clothing is especially important for hot and humid days. The most important thing you should bring is a wide brimmed SPF30 sunscreen because sunburn is quite common when you are out on the boat all day. Even in the shade the UV and glare are quite high. It will also need to bring a light waterproof jacket if you travel within the wetter months. Mosquito repellent is also a must in the tropics at this time.
Dry Season
From November to April the HaLong Bay weather in this region is cooler and can be quite foggy at this time. Although reducing the visibility considerably, this adds to the mystique and eeriness of the HaLong Bay. In winter it remains dry up until late March, when it starts to drizzle constantly and waterproof clothing becomes a necessity. This is the best time to travel and explore the sights as days are cool and rainfall is limited.
What to wear in the dry season (Winter)
The days are cooler compared to the wet season but you can still get away with shorts or pants and shirt and sweater. Warm clothes are a must with the very chilly winter evenings and you will need a coat, scarf, sweaters, jeans and boots to stay warm. Best way to tackle these months is with layering your clothes.