12:30 You will be welcomed aboard and greeted with a complimentary drink. Our Crew will conduct a compulsory safety procedures session and then you are free to check into your cabin and freshen up. Take some time to have a look around the vessel or watch the magical landscape go by.
13:00 As we begin to cruise through the bay a special lunch of fresh seafood and an assortment of appetizing favorites will be served. Dining on a luxury junk with fine food and drinks doesn't come much better than this. You won't get a better view in most restaurants around the world.
15:00 After lunch we set sail for BaiTu Long Bay passing the towns of Hon Gai and Cam Pha, extraordinary limestone karst landscapes, Oan Lagoon, Teapot and Monster Head Islets. Explore VungVieng fishing village by local rowing boats or kayaks to discover the interesting daily lives of its inhabitants. Signature Halong Cruise will stay close to Hang Trong Islet for the evening.
18:00 Our Vietnamese cooking class is a great way to learn how to prepare delicious appetizers and our expert chef will guide you through the process.
19:00 Dinner tonight is a scrumptious a la carte delight with a range of different options guaranteed to please everyone's palette.
20:30 Witness an unforgettable sunset over the bay and layback on the sun deck for some splendid star gazing. Relax with an exotic cocktail or whatever takes your fancy. Our bar has a wide range or wines, beers and liquors from around the world and is always a welcome sight for guests after a day on Halong Bay. Our onboard amenities and recreation activities are next to none. Try a specialized massage in our spa service in room.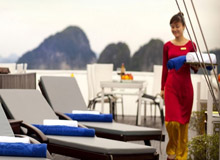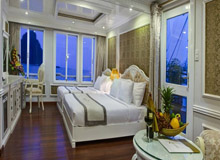 DAY 2: HA LONG BAY - HANOI (B/L/-)
06:00 The nicest time of the day on Halong Bay is the morning. Head to the upper deck to participate in our daily Tai Chi sessions. Relax with an early morning cup of tea, coffee or juice anywhere you wish on the boat and watch the never ending miraculous scenery unfold before you.
07:00 Enjoy our buffet breakfast. It is one of the best, if not the best in the region and our guests are always satisfied. We provide a wide variety of breakfast favorites and we are sure there will be something for you no matter what your preference is.
08:30 After breakfast we board the excursion boat for a side trip to Surprise Cave (Sung Sot). The 100 stair climb is well worth the extraordinary views this grotto worn over millions of years into a lime stone karst.
10:00 Back onboard it is time to check out of your cabin as we draw closer to the mainland. After a final early lunch and a last goodbye from our crew, you will board our excursion boat and head back to the wharf where you will be met by your return trip vehicle to transfer you to Hanoi. On behalf of the Captain and crew, we sincerely hope that you enjoyed your trip with Signature Halong Cruise and we look forward to your return journey.
13:00 Get on shuttle mini bus and get back to Hanoi
16:30 Arriving in Hanoi. End of our services.
Price per cabin (USD): Signature Cruise
Number of Occupation

2 Days/ 1 Night

1 pax/ cabin

2 pax/ cabin

3 pax/ cabin

4 pax/ cabin

Signature Junior Suite

328

412

N/A

N/A

Signature Senior Suite

392

476

N/A

N/A

Family Suite

499

574

831

1099
Price per cabin (USD): Signature Royal Cruise
Number of Occupation

2 Days/ 1 Night

1 pax/ cabin

2 pax/ cabin

3 pax/ cabin

4 pax/ cabin

Signature Junior Suite

355

466

N/A

N/A

Signature Senior Suite

419

520

N/A

N/A

Family Suite

527

638

912

1180
INCLUDED
:
Cruise itinerary and program

Entrance and sightseeing fees

Cabins and suites with A/C and en-suite bathroom

1 Breakfast / 1 Lunch + 1 Brunch / 1 Dinner

Cooking class

Tai Chi session

Insurance, taxes and service charges
EXCLUDED:
Airfares

Shuttle mini bus Hanoi – Halong – Hanoi: 25 USD per adult, 15 USD per child 6-12 year old.

Beauty spa services and massage

Kayaking.

Beverages and tobacco.

Tips and other personal expense.

All other services not mentioned above
CHILD POLICY:
Free of charge for 1 child below the age of 5 years travelling with 2 adults. Limited one child per cabin only.

Children from 5 to 12 years of years of age sharing a cabin with two adults on one bed are charged at 50% of adult rate, limited to one child per cabin only.

Two children below 12 years sharing a pricate cabin are charged at 75% of the full cabin rate. Child from the age of 13 must occupy a separate cabin and pay the full cabin rate.
Click here for more details of halong Signature Cruise - newest cruise in Halong Bay.