The islands in Ha Long Bay are mainly limestone and schist islands most lying in the two main areas: the southeastern part of Bai Tu Long Bay and southwestern part of Ha Long Bay. These islands represent the most ancient images of a geographical site having a tectonic age of from 250 million to 280 million years.
Su Tu Bien Islet

On the canoe route to Thiên Cung - Ðầu Gỗ Grottoes, one should visit Hòn Sư Tử Biển or Sea Lion Islet, which is 10 minutes away from the Bãi Cháy Tourist Wharf. Amidst the vast seawaters of Hạ Long, you recognize a high rock jutting from the sea, resembling a lion stretching.
Ti Top Island
Situated about 7-8 km south-east of Bãi Cháy lies the small Ti Tốp Island. It displays a beach shaped like a crescent moon, and sand that has been washed to a snowy white by the tide.
On 22 November 1962, this tiny island had the honour of receiving a visit from astronaut Ghermann Ti Tốp, a hero of the former Soviet Union, accompanied by Hồ Chí Minh. To perpetuate the remembrance of their visit, Uncle Hồ named the place Ti Tốp Island. It has now become an attractive beach for tourists and has various of tourist services
Thirty-five years afterwards, on 27 June 1997, Ti Tốp returned to the island having his name. Deeply moved, he wrote in the souvenir book of the Management Board of Hạ Long Bay: "My deepest thanks to destiny, which has allowed me to come back to this tiny island." It has become a beach attracting many visitors.
The Vang Island

This is one of the eco-tourism site in Bai Tu Long Bay, Cam Pha District, in the itinerary of Bai Tho Mount - Am Islet - Dau Moi
Islet - Dua Islet - Monkey Islet - The Vang Islet - Van Don.
In The Vang Islet, a resort is under construction to attract holidaymakers during weekends. An artificial beach is also underway. In the future, a system of villas and guesthouses will be built.
Ba Trai Dao Islet
This island consists of three small mountains with the height of 23 m, seen from afar, resemble three peaches (Ba Trai Dao).
The island connects to a legend of about the romantic love between a youngest fairy who was very pretty with a young and poor fisherman. Because of feeling in love with him, she stole three peaches from Heaven for him, that if he ate, would give him eternal life, allowing them to live together forever. The King of the Heavens discovered the robbery and turned the peaches into three stone islands. Chastised, the young fairy had to return.
Today, Ba Trai Dao is a famous tourist attraction with three nice fairy beaches, romantic landscape. It is 22 km from south north of Bai Chay Tourist Wharf.
Dau Moi Islet
Dau Moi Islet lies in the middle of the route between Am Islet and Dua Islet in Bai Tu Long Bay.
The islet resembles the head of a termite, a kind of insect often seen prior to the rainy season. Dau Moi Islet is listed in the diversified "animal collection" of Halong Bay.
Reu Island
Reu Island lies just 500 m from the tourist boats wharf.
The Hoang Gia International Joint Venture is implementing a project to turn the island into a resort complex with many kinds of services.
At present, the island has a lot species of animals, including many rare ones. Reu Island is fast changing into an interesting holiday resort.
Con Coc Islet
Con Coc or Toad Islet is one of the most exquisite works nature has presented Ha Long.
Just imagine, an 8-meter-tall toad sitting to wait for rain amidst the vastness of the sea. The Toad Islet lies in the southeast of Ha Long Bay, 17 km away from the tourist boat wharf.
Dau Be Island
On the south-east side of Ha Long Bay, Dau Be Island is 500 m from Hang Trai Island to the east, and 28 km from the Bai Chay Tourist Wharf, in an archipelago comprised between the Tra Nguyen Da Le islands outside Ha Long Bay (seaport of Lan Ha Bay).
It has an area of 22,863 sq. m, and its highest peak reaches 139 m. When speaking of the island, it is impossible not mention to Ba Ham Lake, a famous spot which people had known long time ago.
Cong Do Island
On the south-east side of Halong Bay, about 25km from Bai Chay Wharf, Cong Do is in Bai Tu Long Bay in the region which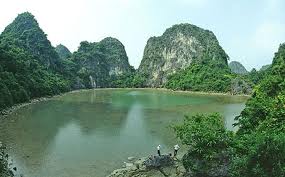 recognised as the World Heritage.
It has an area of 23,363m² and its mountain reaches a peak of 172m.
The island features many lagoons, which are the residence of numerous species of sea-life, such as shrimp, crab, fish, squid and aquatic plants. On the south-west side of the island, there is a wide coral reef displaying a myriad of colours. Coral reef ecosystem is more than 700m long and 300m wide. It is preserved almost undamaged.
In the future, there are plans for the development of a zone for scuba-diving. On the south-east side of the island, vestiges of the ancient commercial port of Van Don were discovered. This confirms beliefs that Cong Do Island once held an important position in terms of foreign trade.
Ngoc Vung Island
Ngoc Vong, or Gem Island, is a pretty site sitting between the Net Islet and Phuong Hoang (Phoenix) Island, in the Van Don District.
From above, Ngoc Vong looks like a beautiful velvet handkerchief with exquisite white edgings; it seems to float on the water surface. On the east side of the island there is a kilometres-beach with pure white sand. At the centre is a luxuriant benjamin fig tree; it was under this tree that Ho Chí Minh stood and conversed with the population in 1962 during a visit.
Formerly, under the feudal dynasties, this island zone contained a great quantity of rare and precious species of mother-of-pearls. At night, fluorescent pearls would light up the whole region. So there are several islands having name "Ngoc" such as Ngoc Vung (dazzling pearl), Minh Chau (Ngoc Chau)...
During the war against the US, the island belonged to a front of outward islands that served as protection for the eastern waterways.
It is also on the beach that many stone artefacts were discovered in 1937, opening a string of excavations and archaeological research aiming at providing some explanations of the mysteries of the ancient Ha Long culture.
Soi Sim Islet
Soi Sim is an soil island 400 m away from Ti Top Island, and 7-8 km from the Bai Chay Tourist Wharf.
In the island there are many ancient trees. The Ha Long Bay Management Board is going to build a system of guesthouses equipped with modern facilities.
At present, a small beach has been improved and upgraded, adding more charm to the attractive holiday resort.
Cho Da Islet
In the itinerary of Thien Cung – Dau Go – Ti Top, after visiting Thien Cung and Dau Go, one needs 10 minutes boating to the Cho Da Islet or Stone Dog Islet.
Some 8m up the islet one can figure out a piece of stone in the shape of a dog sitting with its back to the sea, standing guard for the safety of seagoing boats for millions of years.
Quan Lan Island
Quan Lan Island belongs to Bai Tu Long Bay, it has an area of 11km², and features eight populated hamlets. Quan Lan Island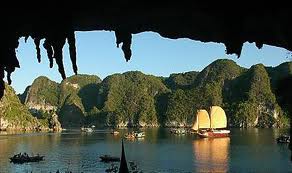 stretch toward East – West from the foot of Van Don Range to the Got Mount with many high mountains to the east barring waves and winds, protect the villages.
The island is situated on an important navigation route that connects China, Japan, Thailand and Philippines to Vietnam. Along two sides of the island are tens kilometres of sand beaches. This is the endless resource for glass making which the sea gives to man and it is also the extremely interesting tourism.
Since the 11th century, Quan Lan had been one of the centres of the ancient commercial port of Van Don, which was animated and prosperous at the time. Today, there are still many vestiges linked to the ancient commercial port. This also explains why the island, lying deep in the sea, has the large pagodas and archaeological sites seen today.
On the island there is the Quan Lan Communal House built in the 18th century; exceedingly beautiful and almost entirely preserved. Next to it is Quan Lan Pagoda (Linh Quang Tu), which is dedicated to Buddha and Saint Lieu Hanh. The pagoda also worships the statue of old Hau, a local person who made lots of contributions to the construction of the pagoda. The statue features a gentle and cheerful old woman, which adds an original character to the pagoda. Beside Quan Lan Pagoda lies Nghe Quan Lan (Duc Ong) Shrine, which is dedicated to Pham Cong Chinh, a local person who participated in the historical Van Don battle against the Yuan invaders. He was later honored as a god. Quan Lan has many valuable sea products such as octopuses, butterfish, mackerel, holothurians, shrimp and sai sung.
Dinh Huong Islet
In the itinerary of Thien Cung – Dau Go – Ti Top, one finds Dinh Huong Islet or Lu Huong (Incense Burner Islet) to the southwest of Dau Go Island.
Passing the Cho Da (Stone Dog) Islet and the Con Meo (Cat) Islet, one sees an imposing stone slab resting on two other small stones stands blocked the way. The stone slab resembles a huge incense burner, which lies in the middle of the sea as a holy object to worship the Sky and Earth.
Bo Hon Island

When speaking of the beautiful islands of Ha Long Bay, one must speak of Bo Hon Island or Soap-Berry Tree Island, not only because of its splendid scenery, but also as it is one of the largest in the area.
There are many grottoes located here, such as the Surprise, Luồn, Virgin and Male grottoes. There is also a concentration of high mountains with vertical cliffs like citadel wall; mountains follow closely make a huge beautiful watercolour picture on the sea.
French call this island Les Surprises. There are various species of plants such as benjamin fig trees, cycads and orchids... and animals are monkeys, deer and chamois. Perhaps, Bồ Hòn Island famous for the grotto system hiding inside it. Each of them has their own marvellous beauty and is related to the moved legends.
Tuan Chau Island
On the south-west side of Hạ Long City it is Tuan Chau Island, a schist island, very pretty, with a luxuriant forest. It has an area of
220 ha, and to the east and south are two beaches endowed with very white and fine sand. In 1962, Ho Chi Minh visited Ha Long Bay and made a stop here for vacation. Nowadays, Tuan Chau Island is one of the most attractive destinations in Ha Long City.
Tuan Chau is in an important position at the entrance of the waterway system of Thang Long, Bach Dang and Van Don, and this is why it was formerly a military watch station. The Office of Feudal Customs was also installed there.
The island also has many archaeological sites pertaining to the ancient Ha Long culture from 3,000 to 5,000 years ago.
One can go to Tuan Chau Island via the 2-km cement road from the mainland. Investments have been poured into the island to turn it into a modern tourist resort. It includes such fascinating extras as the dolphin, sea lion, and seal-performing club, animal circus club, golf court, cultural-sports center, beach, rural market, ornamental fish lake, villas in Hill 1 and Hill 2, guesthouses, five 80-room villas by the beach. The ensemble of five restaurants and one round house built in the pagoda motif can serve up to 500 guests at the same time.
In Tuan Chau, the octagonal house where President Ho Chi Minh rested when he visited Ha Long now became his memorial site. Tuan Chau Island is expeditiously putting the finishing touches to its construction works so that they can be made available for the 2003 Ha Long Tourism Year.
Am Islet
On the route to Quan Lan – Ngoc Vung islands; Am Rock or Kettle Islet is situated in Bai Tu Long Bay.
An island jutting out of the seawaters, the teapot of the Jade Emperor, who accidentally dropped it into Ha Long so, its handle was broken.
But islet
Some 30-minute boating away from the Con Coc Islet, on the way to the Ba Trai Dao (Three Peaches) Island, visitors see a pen bobbing (But Islet) in the seawaters.
This constitutes a monument of knowledge Mother Dragon wanted to pass down to the present-day generations.
Lying adjacent to the Pen Islet is a small attractive beach. Tourists can anchor there to take a bath.
Dau Nguoi Islet
From a far, you can see a 25-meter islet, which reminds us of a huge Egyptian head with a big nose.
Its chin lies close to the sea surface. Many people associate it with the image of the Egyptian Sphinx. The Dau Nguoi Islet in Ha Long Bay, a masterpiece of nature, has its own poetic beauty as it lies amidst seawaters. The islet lies near Luon Cave, 13 km away from the tourist wharf.
Dua Islet
In Bai Tu Long Bay, some 7 km east of Bai Tho (Poem) Mountain stands a stone islet, which resembles a huge magic wand in Andersen's fairy tales.
It clarifies the geological and geomorphologic significance of Hạ Long Bay. Dua Islet serves as an interesting tourist site and a "lighthouse" for seagoing boats.
Mat Quy Islet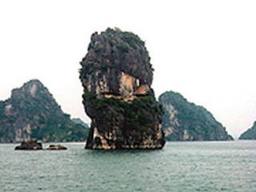 Boating past the Am Islet some 20 minutes, we see Mat Quy Islet or Monster Head Islet, which protrudes about 30-35 m from the waters of Bai Tu Long Bay.
Nature has carved the rock in the shape of a monster head, with a rough big nose standing out from a distorted face. From whatever angle, one still find it horrible.
Ngon Tay Islet
On the way to Ti Top Island, visitors see a stone rock resembling a thump jutting out of the sea.
Nature has put the Ngon Tay (Finger) Islet here as a reminder of many interesting extras in the discovery of Ha Long.
Oan Islet
Situated 300 m away from Bai Tho Mountain and 5 km from the Bai Chay Tourist Wharf, a 22-meter islet stands out in Bai Tu Long Bay.
It has the shape of truncated sticky rice, which serves as an offering to Buddha. French tourists pay special attention to this rock as in 1992; a French famous actress came there to film some shots of the film Indochina. In the island, some settings are still preserved including the stone-paved road to the beach (often called the Slave Pier), the prisons, etc.
Thien Nga Islet
In the waters of Bai Tu Long Bay, a stone islet is bobbing like an alluring and graceful swan (Thien Nga) - a swan losing its herd.
This stone swan has taken up countless time and rolls of film of tourist near and far.
Trong Mai Islet
Trong Mai is situated on the south-west side of Ha Long Bay, 5 km from the tourist wharf near to Dinh Huong Islet.
In a somewhat large expanse of open sea, the island seems to grow up from the bottom of the deep emerald waters. At sunset, the island with the height of over 10 m is bright red and in a somewhat tottery position. Their tiny legs support heavy bodies, and it appears that one strong wave could throw the two stone blocks into the sea. However, hundreds of millions of years have passed, and the Trong Mai is still there.
The image of the island is the logo of Ha Long Bay and Vietnam Tourism.
Xep Islet