FIRST DAY
11.00-12.00: Upon arrival at Tuan Chau, luggage check-in at the Paradise Cruises Lounge and Café. Overlooking the marina, take a moment to have a hot drink or light snack.
12.15: Transfer to the Paradise Privilege for check-in. Just a short walk from the Lounge, walk directly onto the vessel.
12.45: Embarkation, welcome briefing and departure. Program commences. After being welcomed aboard by your tour guide for the trip and briefed on the day's proceedings and safety procedures, check into your cabin and take a look around the vessel. Feel free to say hello to the captain.
13.00: Enjoy a traditional Vietnamese lunch. Our chef has crafted a menu reflecting all the delicious flavors of Vietnam including fresh seafood caught in Halong Bay, flavorsome meat dishes and vegetarian options. Enjoy as we sail towards the army of islands and islets.
14.30: Explore Surprise Cave, Halong Bay's largest. Surprise Cave, an intricate pathway carved through one of Halong Bay's largest islands with several large chambers, is a must-see during any visit to Halong Bay. Make your way through the cave to discover unusual rock formations and remarkable viewpoints with our tour guide.
15.30: Continue cruising around Halong Bay. The Paradise Privilege will make its way through the Bay, elegantly winding in and out of gaps between the islands and islets.
16.00: Discover SoiSim Island and its sublime beach. The Privilege will stop at one of the lesser-visited islands of Halong Bay with its very own sandy beach. Enjoy a relaxed swim in the calm waters or take the opportunity to take to a kayak before returning to the Privilege for a much-deserved drink or indulge yourself with our onboard spa services- just ask a crew member or your tour guide.
17.30-19:00: Happy Hour! Enjoy a drink on the sundeck with a selected number of our beverages at a reduced price!
19.30: Tuck into a traditional Vietnamese dinner. Continue your exploration of fresh, delicious and nutritious Vietnamese cuisine expertly designed by our executive chef. For something special, consider eating on the sundeck, on the beach or even in a cave (all at an additional fee).
21.00: Evening Activities. Time to really relax and enjoy Halong Bay in the evening. Take a glass of white or red up to the sundeck and experience the Bay at night. Enjoy a film in your room or pick a book from our selection of short stories and classics, join the crew-members for a spot of squid fishing or to experience complete relaxation, talk to the tour guide or a crew-member about our onboard spa services. Overnight onboard.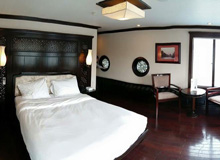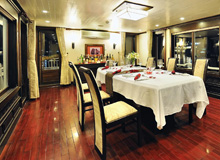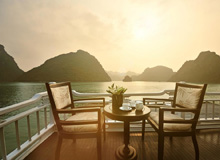 SECOND DAY
07.00-07.30: Tea and coffeeserved with pastries. Wake up bright and early to make the most of your morning in Halong Bay.
07.30: Kayak or swim around the natural masterpiece (locations vary). The morning is devoted to swimming and kayaking your way around Halong Bay. Dive into the emerald green waters and splash around in the calm stillness of the morning. Take this chance to captain your own vessel and take to a kayak- glide through the waters at your own pace. If you don't feel like swimming or kayaking, feel free to sleep in or enjoy the bay from the sundeck.
08.30: Return to the Privilege for a delicious breakfast. Back to the Privilege dining room for a breakfast with both Vietnamese and International options available.
09.30-10.00: Check-out and settle your bill. Check-out of your cabin and be ready to disembark at 10am as we sail away from the islands and islets of Halong Bay back towards Tuan Chau.
10.00: Arrive back at Tuan Chau. After arriving back to Tuan Chau, walk back to the Paradise Cruises Lounge and Café for a drink or snack before transferring back to Hanoi.
Tour Price:
From 01st Jan to 31st April, 2014 and from 01st Oct to 31st Dec, 2014:

US$ 1405 / 6 pax
From 01st May to 30th Sep, 2014:

US$ 1271/ 6 pax
Tour includes:
Lunch and Dinner on Day 1

Breakfast on Day 2

Selected refreshments throughout the cruise

2 bottles of mineral water

English Speaking Tour Guide (other languages available at an extra cost)

Insurance and Tax
Tour excludes:
Airfares, Round Trip Hanoi - Halong - Hanoi by shuttle bus: 36 USD per adult

Kayak rental fee ($20/person)

Any extra beverages

Any extra activities not clearly mentioned above

Spa services

Tips and gratuities

All other services not clearly mentioned above
Good for : Those who want to experience Legendary Halong Bay in luxurious crusie.