Tourpackages:
Though Paradise Cruises only launched their first vessel in 2008, the foundations of the company were laid a few years ahead with the building of the bridge linking Tuan Chau Island to the main land and the ensuing possibility to bring passengers to a private pier, a service never yet proposed by cruise companies of Halong Bay.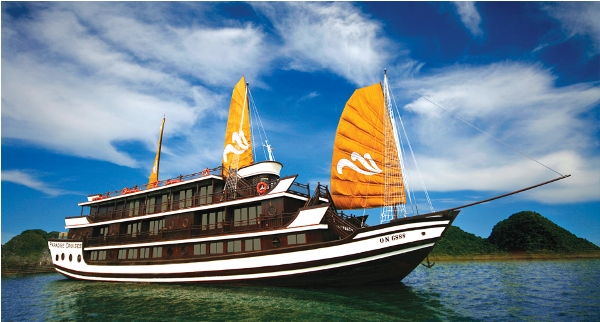 The concept of the company came along, to offer a unique cruising experience in the World Heritage site, blending Vietnamese traditions and multi-faceted culture with the highest standards of hospitality worthy of world-class grand hotels and, thanks to visionary ideas and unequalled customer services, standing out among the four or five hundred boats sailing across the bay every day.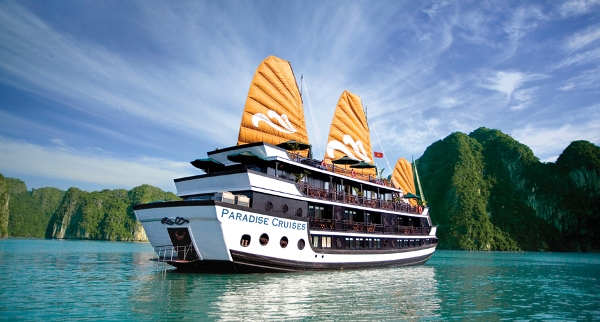 After four years of careful planning and cooperation with Vietnamese and Western architects, designers and consultants, Paradise Cruises launched their first boat, Paradise Luxury I, in November 2008, soon followed by Paradise Luxury II in March 2009.
The fleet expanded subsequently in 2010 and early 2011 with a new Paradise Luxury (III), a brand new generation of smaller, highly intimate and sparklingly elegant private boats, Paradise Privilege I and II, and two Paradise Explorer day boats. The latest addition to the Paradise Luxury Cruisers (IV) set sails for the first time in October 2011.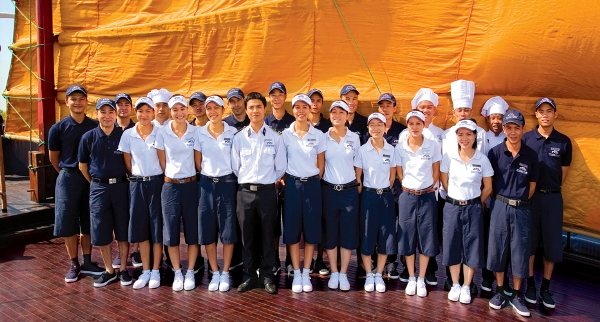 In the meantime, in their constant effort to provide an ever-better quality of service and accommodate their guests in the utmost warmth and comfort, Paradise Cruises opened a luxurious Café & Lounge area a few meters away from their private marina.
Paradise Cruises are furthermore currently using all their artistry to revolutionize the world of Five Star Cruising to launch a few days before 2012 Paradise Peak, an utmost luxury vessel whose qualities go far beyond the most extravagant imaginations.
PARADISE LUXURY
Paradise Luxury I, II, III & IV were built according to the traditional Vietnamese junk design and present a lavish outfit blending in subtle harmony with the natural environment.
The 04 Paradise Luxury offer 68 luxurious cabins and suites as well as an exciting array of activities to be enjoyed while experiencing the spectacular scenery of the "Bay of Descending Dragons".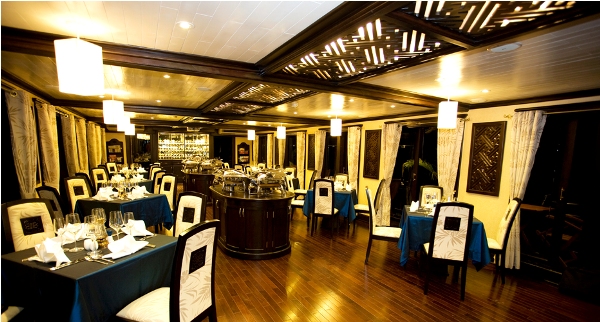 Each vessel features a stylish restaurant and bar for an exclusive dining experience on the third deck. The top deck serves as a perfect place to enjoy lingering in the sunshine and discovering the splendid beauty of Halong Bay with a 360° view while benefitting from the presence of a 'Moonlight Bar", thus promising unforgettable and thoroughly relaxing moments. Celebrated for being the only Cruisers in Halong Bay to provide complete spa facilities with dry sauna, Jacuzzi, massages and beauty treatments, Paradise luxury boats dispose of Spa facilities aiming at reviving your senses and nurturing your well-being.
Paradise luxury fleet is committed to grant our guests a genuine yet prestigious experience: a Paradise cruising experience in Halong Bay.
Technical Information:
Features

Paradise I

Paradise II

Paradise III

Paradise IV

Length

41.5 m

41.5 m

41.5 m

41.5 m

Width

9 m

9 m

9 m

9 m

Height

11.5 m

11.5 m

11.5 m

11.5 m

Cabins

6 Deluxe Cabins
9 Deluxe Balcony Cabins
2 Paradise Suites
(1st Deck)

6 Deluxe Cabins
7 Deluxe Balcony Cabins
2 Paradise Suites
(1st Deck)
2 Terrace Suites
(2nd Deck)

6 Deluxe Cabins
7 Deluxe Balcony Cabins
2 Paradise Suites
(1st Deck)
2 Terrace Suites
(2nd Deck)

6 Deluxe Cabins
7 Deluxe Balcony Cabins
2 Paradise Suites
(1st Deck)
2 Terrace Suites
(2nd Deck)

General

2 accommodation decks with non-smoking cabins (1st & 2nd Deck)
1 lounge deck for Dining and Bar (3rd Deck)
1 Sundeck with Open-air Bar
Massage and Spa area (Sauna and Jacuzzi)
Deluxe Cabin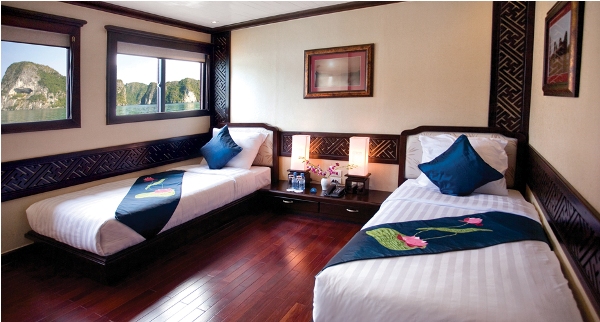 16.2 m2

Big window with Sea view

Dark wooden floor

Located on the 1st deck

Twin bed or Double bed

Non smoking

Central A/C with Manual temperature control

In-room personal safe, telephone, wardrobe

Luxury en-suite bathroom with glass standing shower

Deluxe toiletry

Bathrobes

Hair-dryer

Slippers

Life jacket &other Safety equipments

Rollaway bed is available upon request with surcharge
Deluxe Balcony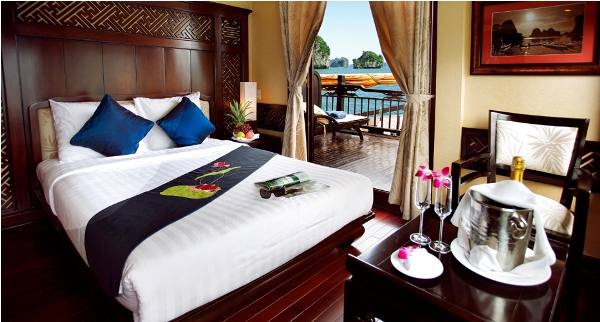 18.2 m2

Private balcony with sea view

Dark wooden floor

Located on the 2nd deck

Twin bed or Double bed

Non smoking

Central A/C with Manual temperature control

Luxury en-suite bathroom with glass standing shower

Deluxe toiletry

Bathrobes

Hair-dryer

Slippers

Personal safe, telephone, wardrobe

Life jacket &other Safety equipments

Rollaway bed is available upon request with surcharge
Paradise Suites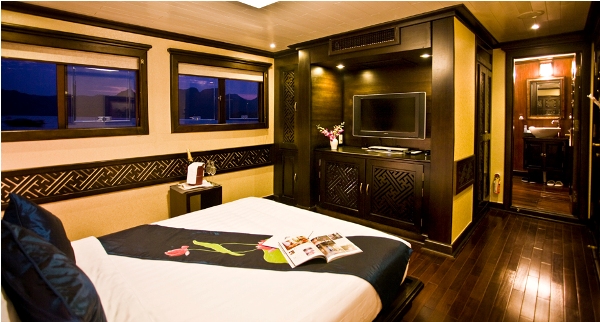 23 m2

Large window with sea view

Dark wooden floor

Located on the 1st deck

Double bed

Non smoking

Central A/C with Manual temperature control

TV & DVD with movies selection

Luxury en-suite bathroom with Jacuzzi bath

Deluxe toiletry

Bathrobes

Hair-dryer

Slippers

In-room personal safe, telephone, wardrobe

Life jacket & other Safety equipments

Rollaway bed is available upon request with surcharge
Terrace Suites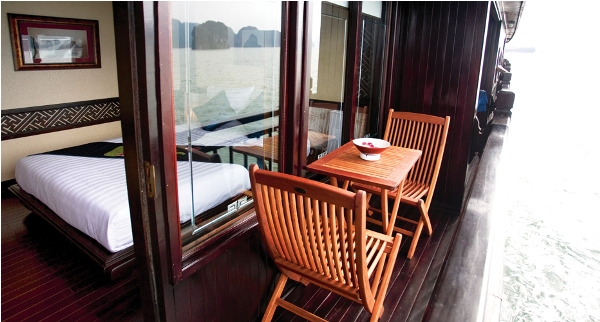 23 m2

Private terrace with sea view

Dark wooden floor

Located on the 2nd deck

Double bed

Non smoking

Central A/C with Manual temperature control

Luxury en-suite bathroom with bathtub

Deluxe toiletry

Bathrobes

Hair-dryer

Slippers

In-room personal safe, telephone, wardrobe

Life jacket & other Safety equipments

Rollaway bed is available upon request with surcharge
Tourpackages: